The Sales Lead Management Association, based in Villa Park, Cal., has named Margery Murphy, President of Acadia Lead Management Services, one of the 2014 Top 20 Women to Watch in Sales Lead Management.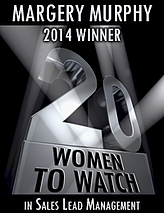 Sales Lead Management Association (SLMA) CEO James W. Obermayer said, "The 20 women to watch in sales lead management create wealth for their employers and the companies they lead, and we are pleased to spotlight their accomplishments."
SLMA members nominated 41 women leaders in the field of sales lead management; from those nominated, 20 were selected. Nominees were judged on their contributions to sales lead management, marketing and sales activities. Additional qualifications, such as board positions and authorships, were taken into account.
This honor is part of an exciting year for Acadia Lead Management Services, as they've recently moved to a new office and have expanded staff and service offerings.
Margery Murphy said, "It is an honor to be part of such an accomplished group of women. Clearly, we all have a commitment to taking our industry into the next phase of maturity. Sales and marketing has gone through tremendous transitions in the past ten years. My objective is to stay one step ahead, ensuring that my clients have a solid game plan and a trusted partner as we continue to navigate this dynamic landscape."
Acadia Lead Management Services, established in 1999, specializes in helping companies reach new levels of success in sales and marketing, ultimately resulting in a company's revenue growth. The WBENC-certified firm's services include CRM and marketing software, market research, contact list builds, database management, lead qualification and more.
For more information, visit acadialms.com or email acadia@acadialms.com.