"It's called inbound marketing."
I was busy crunching sales automation data but I couldn't help listen to Mike Murphy as he introduced me to this relatively new concept - inbound marketing. Later that day we spoke with the nice folks at HubSpot, and I was really listening. Acadia quickly became a HubSpot partner and, over the past few years, we've fully embraced the inbound philosophy. We did something different though - we stayed true to our roots (outbound sales and marketing). The combination of inbound and outbound marketing, also known as Omnibound™ marketing, has worked. And we're pleased to announce that we've achieved silver-tier partner status. Here's a synopsis of our ride so far.
Inbound is defined by HubSpot as "creating content specifically designed to appeal to your dream customers, attracting qualified prospects to your business and keeping them coming back for more." As a trained cartographer, working with Acadia's data team made sense (after all, maps are just fancy ways to display data). When inbound came along, I volunteered to lead the way. After all, details, measurement and data, an integral part of inbound marketing, are my bailiwick. How upset would you be if your navigation system was '"close enough?" But marketing was another thing altogether. Turns out I love(d) it.
As we started "doing" inbound, we got better at the internal stuff. We realized, though, that inbound would really benefit our customers. We work mostly with small to medium sized manufacturing, technical and engineering companies who, at the time, were primarily engaged in outbound demand generation (trade shows, buying email lists, making phone calls, and so on). This worked, but we figured inbound would work too. Or even better, meshing inbound and outbound simultaneously.
We got started with our first inbound client, a local manufacturer, and things went well. We learned a lot and so did they, but more importantly, they got leads. Good leads. We were hitting the right people at the right time with the right information. It was (and, as of today, still is) a success. Here are some additional details on that first inbound project.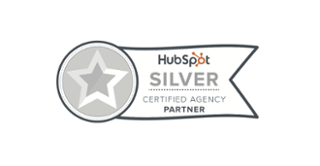 We dove right in. Our inbound team grew and we read everything we could, attended trainings and Inbound in Boston (can't wait for our third Inbound this November), and managed to bring on more inbound clients, one by one. We started integrating inbound and outbound with real Omnibound™ services. Then it happened - this year, we became silver-tiered HubSpot partners!
Click above to see just what that means, but to us it means it's working. I could go on and on about the details of our journey but I know you, the reader, are busy. Basically, we love bringing in leads for our customers and seeing them thrive. Next stop? Going for the gold.