If you're like me, you enjoy helping people. Knowing you did something that brought joy or relief to someone else puts you on cloud nine. Doing that for a client is just as gratifying. Anyone in the B2B space will tell you that delighting your clients leaves you feeling quite accomplished.
One of the first inbound projects I had the pleasure of being involved with was for a company called
Composite Advantage. Composite Advantage President Scott Reeve began his inbound marketing program with the Acadia team in January 2015. Composite Advantage manufactures bridges, bridge decks and other infrastructure applications using composite materials. It's a whole new way of looking at large transportation or waterfront structures.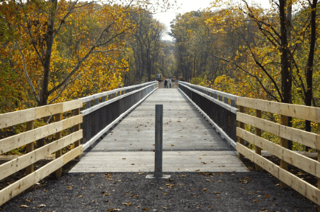 At our kickoff meeting over a year ago, we learned that Composite Advantage's lead development methods were limited. Few of the information requests they received were from people who were ready to "talk shop" or get a project quote. Their main contact database consisted of a few hundred people who received an email newsletter. They also had a shoe box filled with business cards and assorted other databases with contacts. Their social media presence was small as well, consisting of limited updates to a Facebook and LinkedIn page. This isn't uncommon. Many of our manufacturing, technical and industrial clients aren't fully engaged in comprehensive lead/demand generation programs, as was the case for Composite Advantage.
From this point on, we hit the ground running. We scanned the shoe box full of business cards, cleaned up their contact data and imported it into HubSpot. We then migrated the Composite Advantage website to HubSpot's Content Optimization System. Soon, we were making web edits through COS, social publishing through the calendar and social apps, launching and segmenting email campaigns through the marketing app, and tracking social followers, form submissions and web visits utilizing the reporting app. Shortly after, we created Twitter, Google+ and Pinterest accounts for Composite Advantage and followed prospects, customers, competitors, as well as other groups and thought leaders in the industrial realm. With our content platforms primed and ready, we started generating and sharing good social content. Starting in February, Scott began blogging at our behest.
One year later, we reviewed the data and saw what we'd hoped for – our efforts were proving successful for Composite Advantage. Web visits increased by 43%, visitors-to-contact conversions increased by 130%.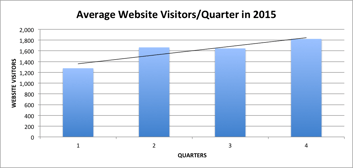 Scott also shared the numbers on the revenue side. Composite Advantage's sales cycle is between 1-3 years, and they anticipate that company revenue will increase by 40% in 2016 with about 10% due to Acadia marketing efforts. In 2017, Composite Advantage expects an additional 40% revenue growth, at least half of this increase due to Acadia efforts, and their number of customer expected to nearly double in the same year.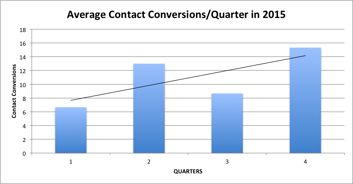 Helping a client achieve results like those noted above aligns perfectly with Acadia's mission – to achieve peace of mind for our clients by growing their business. Acadia's range of both outbound and inbound services allow us to continuously achieve this mission. In order to magnify our success, Acadia recently kicked off a new demand generation program called Omnibound™. Because of our unique ability to combine outbound services with marketing's inbound experience, we're able to get the best of both worlds within this one program.
Acadia was founded by President Marge Murphy, an engineer by trade, to help technological and engineering-based companies track and measure their outreach efforts and obtain new customers. Today, we continue to thrive within the industrial and manufacturing space, which is something not many B2B companies in marketing and sales can say. It's our niche. We understand our clients and their technical products and services. It's because of our roots that we can do this – create a meaningful impact on our clients both in their return on investment and the positive relationship that we build with them. In short, Acadia was founded by engineers for engineers, one reason we've been able to have such an impact on clients like Composite Advantage.