Previously, we discussed:
finding the best targets for your solutions or products (your sales persona),
pushing out content to that ideal market (you guessed it – content marketing!), and
Now that we have these prospects, we need to convert them into customers (that is - ACQUIRE them)! Enter your sales organization!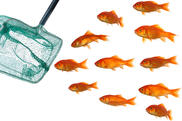 Break it Down
The Acquire step really concerns two activities. First, you must understand your customer's business and specific needs. Second, you must demonstrate how your solutions and your company resources can help the prospect achieve the results they are looking for to advance their business. Let's take a closer look at these two activities.
We've learned a few things about our hypothetical prospect (Engineer Ernie) from what he's responded to in our marketing initiatives. If we haven't already, we need to do a little more research about his organization and their business. Obviously the web (think LinkedIn, the company's site, etc.) is a great resource here. We keep reading until we understand everything about Ernie's business. There's more! Our sales organization should now reach out to the prospect and begin what is called the discovery process. This involves gaining even more of an understanding of Ernie's business, including performance, what challenges they are facing and the impacts of these challenges.
Our sales department does this by asking the right questions! What types of questions? The kind that reveal critical areas of the customer's buying process. Don't stop until we understand the entire buying process, who is involved, their financial ability to acquire a solution and their decision-making process.
OK, we now understand everything there is to understand about Ernie's company. Here's the best part - once we understand our prospect's business and his or her problem, we can identify how our company's product or service can help (and why we can do it better than our competitors). "Why yes, we do supply specialty metal alloys quickly and at a great price!" Just like that, you have solved Ernie's (and his pal Buyer Barney's) immediate problem! Sales may now use this knowledge to begin demonstrating the value of our solutions to meet this need. Through discussions, presentations, and demonstrations, we begin to show the prospect the benefits our product or service will deliver to them.
We demonstrate the business fit between our two companies and the solution fit our product/service delivers!
The key to our success in acquiring new customers is to be able to demonstrate and prove the value we can bring to our prospects. We must be able to clearly define our capabilities, how they will impact the prospect, and the potential results that will be produced - for each individual prospect.
Sales' job is to actually help the prospect through their own buying process by showing the unique ways that our product or service will impact their business. As the prospect sees that we are the best solution for them, and that we know our stuff, they move to secure our solution. We have acquired a customer! Next step: a seamless onboarding!
Learn more!