Acadia Lead Management Services is pleased to announce that it has joined the HubSpot inbound marketing team as a Certified Agency Partner. All-in-one marketing software company HubSpot recognizes the value of its certified agency partners and is glad Acadia is part of the team that is revolutionizing marketing.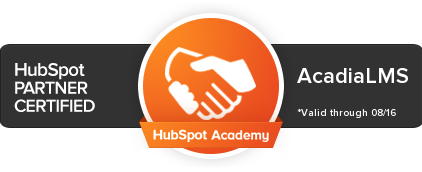 "It's time to replace the world's annoying, interruptive marketing with personalized inbound marketing - marketing people love," says Brooke Freedman, HubSpot Channel Account Manager. "We're excited to have Acadia on board."
"Over the past 15 years, Acadia has assisted our clients with complex audience outreach, lead generation, CRM software and sales database management services," says Mike Murphy, Acadia's Director of Business Development and Operations. "The vast majority of our clients are B2B-focused businesses in the manufacturing and IT sectors. It is a natural progression for Acadia to help these and other companies enter, and succeed in, the complex world of digital marketing."
Acadia Lead Management Services, established in 1999, specializes in helping companies reach new levels of success in sales and marketing, ultimately resulting in revenue growth. Acadia, a WBENC-certified women-owned business with headquarters in Dayton, OH, offers CRM and marketing software, market research, contact list builds, database management, lead qualification and more. Visit acadialms.com for more information.
HubSpot is on a mission to replace the world's annoying, interruptive marketing with marketing that people love. HubSpot software is the most powerful, tightly integrated and comprehensive marketing software available, putting personalized inbound marketing into the hands of any business. Over 10,000 companies in 60 countries use our software to create lovable inbound marketing to attract, nurture and convert leads into an accelerating stream of new customers and revenue. HubSpot has been named one of the most promising, fastest growing companies by Inc, Forbes and Deloitte for the best possible reason: customer results. HubSpot has over 400 employees, was founded in 2006 and is based in Cambridge, MA. For the love of marketing, find us at HubSpot.com.
For More Information
Mike Murphy, Director of Business Development and Operations
Acadia Lead Management Services
888.605.3194 x 714
mcm@acadialms.com
acadialms.com
###