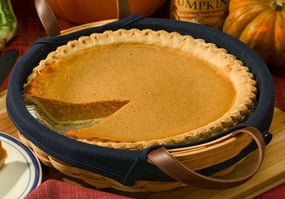 Don't we all want the entire pie for ourselves? Of course that comes with ramifications, mostly around the waistline. In business, we all want a little more of the available pie. Who among us has all the pie (or market) that you want for your business? If you're saying "Me!," then you most likely have a lifestyle business. In short:
A lifestyle business is one that has been set up or has become a business that allows the owner(s) the ability to maintain a certain level of lifestyle they are comfortable with and have been accustomed to. There really is no desire to grow beyond that level of business.
I'm not saying there's anything wrong with a lifestyle business, but what if you do want to grow and get more of that pie? If we imagine the markets we serve as a whole pie, very few of us have the market share represented in the picture. More often than not, what we do have would barely be considered a full serving of dessert. The real dilemma is, how much pie is actually available in your market space? Not long ago, I was asked to build a business plan to penetrate a market. We knew how much we had and how much we wanted to grow, but we needed to understand what was available...and, of course, realistic. The following process is an example of how you might want to go about estimating a target market, like I did. It's not an exact science but it does give you a sense of the direction you may need to take. Since I work heavily in the manufacturing and industrial space, I'll use a hypothetical industrial market space. Let's assume we're a pump manufacturer and work closely with electroplating, plating, anodizing, coloring and polishing companies. The company focuses on small American businesses and wants to gain a bigger share of this market. Yes, the market is large, but how large and how much of it do we have? Start by taking the following preliminary steps to better understand what you're dealing with:
Find a designation for your market to search against. I always start with a SIC Code (Standard Industrial Classification) and/or an NAICS Code (North American Industrial Classification System). These codes are used by the government to classify industries. When registering, a company will select the classification that best fits their products and services. Unfortunately, some companies don't select the correct classification, which skews the data. However, for this analysis, we'll say that our information is accurate. In this industry, the SIC/NAICS codes are 3471/332813. (You can go to census.gov to search for the appropriate codes via key word or number.)


Estimate how many companies exist in your respective sector. This information can also be found on census.gov, in the section dedicated to Statistics of U.S. Businesses (see below).


Target companies in your selected demographic. In this analysis, our focus is on companies in the US that are considered small businesses (fewer than 500 employees): US & states, NAICS sectors and small employment sizes. The link below will take you to a downloadable spreadsheet with over 18,000 rows in it. Remember that you are specifically interested in NAICS 332813. You can search for this code to see the following results:
Drill your data down to the important data points. According to our research, there are a total 2405 US establishments under this very specific code with 500 or fewer employees.


Use the data to get a sense of how much share you have in this specific area (i.e. do the math). You'll need to make some assumptions and gather some facts.

How many customers do you have in this space? (Fact available via your internal systems)
What is your overall revenue in this space today? (Fact available via your internal systems)
What is your average sale per customer? (b divided by a)
Based on our market expertise, sales feedback and metrics, what do you believe the revenue potential is by company size (e.g., a company with 10-19 employees will buy less than a company with 100-499 employees)? This information should be based on best estimates and experience. You might wind up with something that looks like this (remember, this is a hypothetical example).
After plugging in your estimates, you can determine the opportunities in your target segment by company size. Based on your results, it appears that your opportunity is over $8 million.
Next, determine what percentage of the pie you own. If your sales have been around $2 million in that segment, you know you have about 25% share of that segment - and have a great deal of upside potential.
I understand there are many more variables associated with penetrating the opportunity. Variables such as sales coverage, distribution channels, geography, product selection and production capabilities come into play. This process overview gives you a good starting point to answer this question – Is there an opportunity and what share is available to my company?
Best of all, this can be done by anyone using FREE resources. If you want to take the next step and begin building out targeted companies and contacts to pursue, you'll need to take a deeper dive. We call it Targeted Contact Research.
How does your company determine whether you want to pursue a market? What best practices do you have to share? Let us know in the comment section below.