We recently blogged about data terminology and several of the sources marketers use to gather insight, plan campaign strategies, and identify prospects. Today we'll take a closer look at how to leverage some of those sources to develop useful, high quality datasets and contact lists.
You already know that data is critical to marketing and sales, but how often do you think about data quality? According to recent Dun & Bradstreet research, cited by CMO.com, 89% of marketing professionals believe data quality drives B2B campaigns, but 50% worry about the quality of their data.
Of course, better data is expensive whether you're building your own lists or outsourcing the work. And let's face it, scrolling through names looking for duplicates and scouring the web for updated email addresses doesn't rank at the top of many people's to-do lists. But it's worth it if it leads to better conversion rates – that means a solid ROI for data quality measures.
Wondering where to start? Read on!

Finding Prospects
Start by identifying your likely prospects. In our experience with manufacturing and industrial marketing, engineers and purchasing agents are a common starting point, but only a starting point. To really target end users and influencers, think about specific roles and associated titles. Sites like ThomasNet.com, Google, LinkedIn and Monster.com are great places to search for this information. Of course, this is just a smattering of available resources in the market. You'll see how broad concepts like engineering are broken down, and you might even find related job titles. For example, operations managers, quality managers, and production roles might be strong influencers at a factory in addition to manufacturing engineers. Watch for overlap in job duties across job titles as they relate to your product or service: one company's manufacturing engineer might be similar to another's project engineer.
Trade associations and trade publications often include directories of member companies and are a good way to find overviews of an industry and the work it involves. One example is Monster's list of engineering trade associations.
The above sources are also ways to find individual company names, product descriptions (for potential clients or your own competitors), and even look for regional trends. For example, you might find that most of your potential prospects are located two states away due to a competitor with a hold on your local market. This helps you prioritize between improving how you provide your product/service at a distance or winning clients away from the competition in your area.

Organizing and Structuring Your Data
Hopefully you're using some form of technology to collect and organize your contact lists. Be it a spreadsheet, generic relational database software, or a full-scale customer relationship management tool (CRM), keeping data organized into fields, columns, and records is the efficient way to scale data collection, retrieve information quickly, and keep track of marketing and sales activity. But, there's more to it than merely uploading contact information.
"Keeping data organized into fields, columns, and records is the efficient way to scale data collection, retrieve information quickly, and keep track of marketing and sales activity. But, there's more to it than merely uploading contact information." Click to Tweet.
As they say, an ounce of prevention is worth a pound of cure, and in the world of data, minutes spent to prevent errors in data entry are worth hours spent correcting them later on. Ways to apply the power of prevention include:
developing rules and conventions for abbreviations, articles (a, an, the), capital letters, punctuation marks, etc.
routinely searching for a contact before adding a new one to avoid duplicate entries
consistent use of terminology and phrasing wherever possible
documenting and distributing all data entry rules
The next step is to identify and remove any duplicates, a process called "deduping." One method is to create lists sorted by company name or last name, or even by more unique identifiers like phone numbers or email addresses. Software can catch duplicates in many cases, but not all. Software solutions are generally aren't "smart" enough to work around misspellings or differences in how company names are entered, so periodically comb through lists manually too. For example, a computer won't realize that "City of Mayfield" and "Mayfield, City of" are the same entity, but you will.
Further organize lists info segments such as firmographics (location, industry, number of employees, annual revenue, etc.), job title/role, ROI for your efforts, buying behavior, or other meaningful categories based on product use or perceived needs. This lets you develop content, email, and social media materials that resonate with different groups of prospects. Mail Chimp found that email open rates were over 14 percent higher when then came from segmented campaigns. Track contact activity with your CRM and "If you see a higher ROI for a particular push in one segment, you can focus more of your resources on that initiative within that segment," notes Salesforce.

Validating and Maintaining Data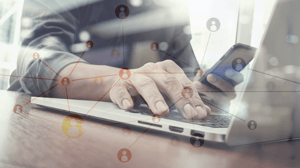 If you've ever changed email addresses or taken a new job, it won't surprise you to learn that 37 percent of email addresses become outdated every year, and 34 percent of people change job titles or roles each year, according to Zoominfo. Changes to contact information are inevitable, and in your spreadsheet or CRM it's' called data decay and it impacts everything from your email open rates to your conversion rates. Zoominfo also estimates that up to 25 percent of B2B database contacts contain errors. If you do nothing to mitigate them, they'll only compound over time as more contacts retire, companies go out of business, firms merge, and other changes occur.
Before doing any outreach, check your calling lists against Do Not Call (DNC) lists. In addition to the US federal DNC list, states and the Direct Marketing Association maintain lists, and you may even have an in-house one you've developed. Yes, there is an exemption for B2B telemarketers, but it's best to proceed with caution, as Marketing Profs explains.
If you're engaging with prospects outside the US, you'll also need to comply with the General Data Protection Regulation (GDPR). In effect since May 25, 2018, it requires that you obtain consent to collect or use personal data of EU citizens or anyone in the EU at the time of collection, even non-citizens.
Another requirement is that personal information may only be transferred out of the EU and into countries the EU considers as having "adequate" data protection laws. The US is not one of these countries; however, individual US companies are able to prove that their data policies are adequate through a program called Privacy Shield. This voluntary program lets companies self-certify that they adhere to 23 principles of data privacy related to collection and use of personal data and procedures for dealing with access requests and complaints from EU citizens.
Calling contacts to verify data is another way to proactively update your records. You can call specifically to verify data or make a point to review contact information at the end of every sales call. It takes time, but it's a reliable way to make sure you have the most current information right from the contact. For the most accurate results, spell out proper names and email addresses instead of merely reading the words (i.e. say "d-dot-s-m-i-t-h-at-w-o-r-k-dot-com" instead of "d smith at work dot com").
If your calling uncovers additional contacts, or reveals the need to search for more people within a company, consider establishing a process for this. For example, designate a person on your team who receives requests for additional contacts and searches LinkedIn Navigator or Hoovers. A documented process helps you cover all the bases and keeps errors and duplicate entries to a minimum.
Your data speaks volumes about your attention to detail and the time you're willing to spend to get the job done right. Building and maintaining a solid dataset takes time and patience but the cleaner your data, the more useful it is, and the more qualified prospects you'll reach. If you're creating a list in-house or need a partner to build a list for you, Acadia can help.