We're engineers. So, at Acadia, we love that our client base is mostly manufacturing, engineering, industrial and technical companies. For 17 years now, our primary reason for existence is and has been to generate new business leads and opportunities for those manufacturing, engineering, industrial and technical clients. Along the way, we've learned a thing or two.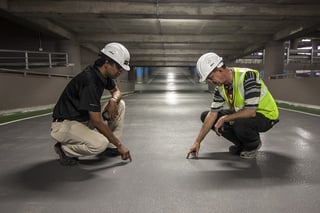 For one thing, these sectors are quick to adopt new technological advancements in their own production space. On the flip side, we've noticed they can be a bit slower to embrace new technologies in sales, marketing and business development. But this is starting to change. Lately, we've seen a marked increase in sales, marketing and business development inquiries, as manufacturers, engineers and others are beginning to adopt these advancements in earnest. Times are a changin'! Let's take a look at three barriers I've seen and the realizations companies are having - leading to these recent increases!
Barrier: We're too busy (doing business and delivering products and services). Us humans tend to have a short memory when it comes to pain. It was a mere seven years ago when business, especially the industrial sector, took a turn for the worse as the recession took hold. During recovery, companies were forced to downsize, find different ways to do business and become more efficient. As certain industry sectors saw improvements, and companies started making money again, our memories of the recession (and the pain it caused) began to fade. Most agree that overall, we've had a decent (but not robust) recovery. In fact, some (I stress some, not all) sectors are beginning to see a slowdown again. Suddenly, some companies are feeling a twinge. It's like that old sports injury that flares up later in life, and causes you to remember when you actually felt the pain for the first time. "Uh-oh, I'd better get this checked out before it gets worse. I remember that pain."
Realization: It's time to adapt! "I don't want to relive that old injury, so I need to choose between rehab or surgery. If it's surgery, I may be too late." Back to business - think "I need sales and orders!" We're finding that organizations are beginning to explore all avenues of securing new business opportunities. Trying to get ahead of the slowdown. The old way of doing things doesn't work quite as effectively as it once did and the world has changed. Prospects are looking for us, and only want to talk when they've pre-qualified us. So we need to be found, but how do we do it? It's time to find the subject matter experts (SME) in all things business development. It's time to research, learn and engage with the subject matter experts to understand what's available. There's more than one way to solve the problem. We all know the Albert Einstein adage, (paraphrased) "Doing the same thing over and over again and expecting different results is the definition of insanity." So yes - industry is finally beginning to treat business development challenges like the engineering problems they've become.
Barrier: My customers are changing. A Google/Millward Brown Digital study found that almost half of all B2B research is done by 18-34 year olds. Yes - they're making buying decisions! The challenge is, how do we find them and how do we get to them? What should we do? Our audience is changing and we need to address this!
Realization: Go where they are! Yes, these buyers are in a place that's unfamiliar to some of us. They're searching differently, interacting differently and most importantly making decisions differently. In the 'old days' we could call, drop-in, send direct mail, find them at trade events and so on. Today? Not so much. These techniques still work, but not as effectively. The subject matter experts have shown that the B2B buying journey (as much as 60-80%) occurs before we ever have a conversation. Where are these prospects going to inform their decisions? We know information is abundant. We simply Google something and end up with a million data points. Why would anyone want a long, drawn out conversation early in their buying journey when the same information is available and accessible using a simple online search? They wouldn't. Of course, a conversation needs to occur at some point, but not at this point. Bottom line - let's go where the buyers are, and go there fast.
Barrier: I still don't believe it! There has long been resistance to business development efforts that industry viewed as non-traditional, or uncomfortable. Sometimes it all seems like hocus pocus. Mysterious people looking for what we do, landing on a website, taking a journey, leaving and never telling us they're interested. Many just say, "I can't deal with that. I still need proof. If I see proof I might consider it."
Realization: Holy cow, there's proof! Thanks to marketing automation tools and technology, we have the ability to analyze every aspect of the buyer journey, and can then influence that journey. There are tools out there that help manage marketing activity and channels, and measure everything along the way. There are many tools to choose from, but like anything, if they're not implemented correctly, they won't produce what we need. The same applies for a machine tool or production equipment. These technologies are based on best practices and detailed data, and therefore can influence change in the process. Hey, doesn't that sound a lot like manufacturing or technology speak? It's actually something I relate to and understand. No hocus pocus, just real tangible data that helps us measure the effectiveness of our marketing and business development dollars. These technologies have existed on the sales side for a while (think customer relationship management, or CRM) but in the world of marketing, return on investment (ROI) has been very hard to prove, especially in industry. Now it's tangible, measurable and 'optimizable.' We can capture opportunities, see where they came from, follow their journey along the way and find out what information they engaged with. HOLY COW, I can pick up the phone and have a conversation with a real, interested prospect. Even better, they often call me!! This means less cold calling and doing more of the fun stuff - solving problems for clients and having meaningful conversations with real prospects. And best of all, I can improve my process based on marketing and sales 'production data.'
Technology has finally caught up with the audience. Every time Acadia shares actual results with our clients, including real metrics and tracking, we see a collective realization that there's "another way." And we can see how this other way works!
I'll continue to share experiences over the coming months about best practices and practical examples. Additionally, we'll cover the integration of traditional business development with the best of what's new for our technology business space. After all, this is how Acadia started, working traditionally on behalf of clients. We've had to adapt as well.