There's a lot to celebrate in May. One of my favorite celebrations is National Small Business Week, May 4-8. To honor small businesses on this week, the U.S. Small Business Administration offers webinars, timely articles and other resources for the small business. According to the SBA, "more than half of Americans either own or work for a small business, and they create about two out of every three new jobs in the U.S. each year." That's a big deal and it got me thinking.
National Small Business Week is pretty near and dear to our hearts here at Acadia. I'll give a little background on us and why this is so!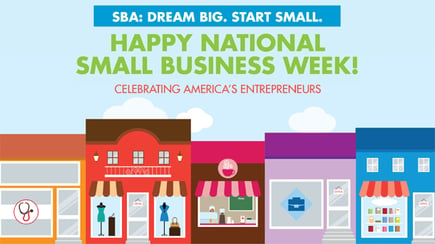 I started out as an engineer coming out of Manhattan College back in [I'm not telling]. Between then and 1999, life happened. That's when I ended up here, starting my own business, Acadia Lead Management Services. It's been quite the journey and an awful lot of fun. People often say to me, "What's it like owning a business?" My answer: Crazy!
My role can change from one minute to the next. I'm always the CEO, and my team usually takes care of everything below. However, sometimes I do have to step in as:
marketing director
sales director (that's always my favorite because you never know what's next)
director of operations
fax machine/printer repair specialist
human resources director
trainer (I love doing training because I get to work with employees or clients directly)
office manager (not my favorite - never know if I'll be running to Kroger for more toilet paper!)
Does all this sound crazy? Sometimes at the end of the day I feel a little overwhelmed, but I wouldn't change a thing. I love my business but I also love my clients and I love my employees. They're why I'm here today.
I've started a little web series on YouTube called MargeTV where I talk about this sort of thing - entrepreneurship, being a small business owner, maintaining your peace of mind as a small business owner and so on. Check it out! I'm always looking for new topics so if you have any ideas, get in touch!
And from the Acadia team to yours, here's to small businesses all over the US!