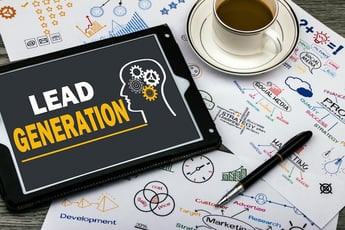 Competition is fierce today in every sector, but even more so in industrial manufacturing. Why? There's more supply than demand and the variables demonstrated in the statistics sited below are hitting hard. It's more vital than ever that we maximize every lead and capture the holy grail - a new client and more revenue.
I work with manufacturing organizations every day. We discuss challenges with distribution, sales reps, inside sales versus outside sales and much more. Here are some essentials that are important to every organization.
Remember - a few small changes can result in very large returns.
Essential #1: KNOW the Contact - Not Just the Company
Most of our clients understand their target market - automotive, aerospace, food and beverage and so forth. They also have a good understanding of their target organizations. However, the bigger challenge is connecting with the right person or persons in the organization who can open the door. This ideal key contact is referred to as your buyer persona. It may be a product development person, electrical engineer or even someone from procurement. Your buyer persona must be defined clearly and accurately. It takes time and usually several iterations to get right. However, the investment is well worth it - this is the foundation of successful lead generation.
Essential #2: Understand What Makes Them Tick
Now that you know who you need to connect with, it's time to understand what is important to them. It may not be as cut and dry as you think. If engineering is in their title, understand the challenges they face. There are so many differences between types of engineers that you can't speak to all of them in the same way. QA and design can be vastly different for each group. Listen to them and speak to them in their language - they'll listen to you.
Essential #3: Publish Valuable Information
As Ann Handley, Chief Content Officer for MarketingProfs says in an article for "Eloqua," connecting isn't about producing as much content as possible. It's about producing quality content. If you've done your research, you should know what your target market values. For example, if you're in the aerospace industry, be aware of new developments. Be on top of these developments by commenting and providing insights about how they may affect the market.
Essential #4: Optimize on Referral Sites
Add yourself to online directories. Many of our clients have found THOMASNET to be an excellent resource for being found in the industrial space. Establish inbound links from associate websites and other companies that you partner with. If a company is looking on these partner sites, they're already pre-qualified..
Essential #5: Use Events to Showcase Your Personality
Nothing beats face-to-face interaction. Attending trade shows and other events gets the H2H (human-to-human) effect rolling. After the event, don't forget to stay top of mind by planning and executing smart nurture and outreach. Again - make it meaningful - not just a sales pitch. Show your human side.
Essential #6: Follow-up With, Yes, the Phone
Respond to serious leads personally. If a website visitor left contact information, don't automatically send out a form-letter email. If appropriate, call and speak with the person to get a sense of her needs so you can offer a personalized proposition from the beginning.
Consider the Climate
In a recent report, the National Association of Manufacturers examined current and future challenges for U.S. manufacturing across four areas: Competitiveness, Innovation, Skilled Workforce and Employment and Trade. Some key findings:
U.S. manufacturers face a 20 percent structural cost burden compared to companies from our nine largest trading partners.
The U.S. has the highest statutory and effective corporate tax rate in the world.
U.S. health care costs have increased more than 80 percent in the past decade, creating greater personnel costs for manufacturers.
Regulations continue to impart a heavy burden on U.S. manufacturers.
U.S. dominance in product innovation is now in question.
Manufacturing job losses have impacted every region of the country.
The U.S. manufacturing workforce is older and less educated in comparison to other sectors.
The U.S. is losing export market share as our trade gap widens.
Now is the time to invest whatever you can in getting that next deal. Feel free to reach out to Acadia to see how we can help! We offer a no-cost assessment of your marketing efforts, too.