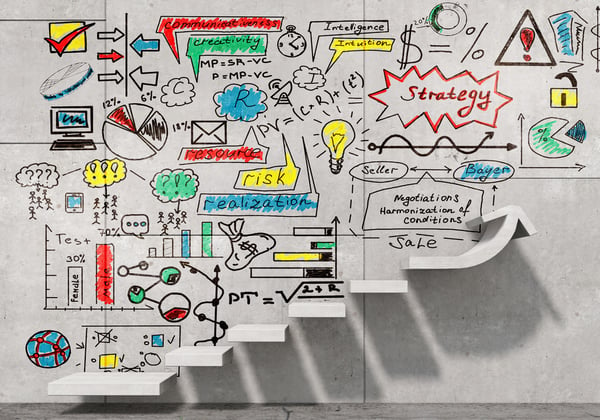 You've probably heard of sales enablement, but you might wonder what it means exactly. I think of it this way: if you work in sales, any tools, processes, or systems you use to become more efficient and productive at your job are part of sales enablement. Another way to look at it, according to Forrester, is that sales enablement is: "a strategic, ongoing process that equips all client-facing employees with the ability to consistently and systematically have a valuable conversation with the right set of customer stakeholders at each stage of the customer's problem-solving life cycle to optimize the return of investment of the selling system."
In my day-to-day work at Acadia, I use a number of tools for sales enablement, but one of the most important is my sense of accountability. I must hold myself accountable to following procedures and using digital tools to manage prospects and data. It might seem faster or easier to scribble notes on a scrap of paper, or to assume I'll remember the details of a call, but no matter how well a system is designed or implemented, if you do not use it then you get nothing out of it. The bigger picture is that the more details recorded in digital tools, the more accurate our metrics, nurturing, and prospect tracking will be.
At Acadia, we use HubSpot's cloud-based customer relationship management (CRM) software and their Sales Hub for much of our sales work. We also encourage many of our customers to do the same. Here are three ways I find HubSpot excels as a digital sales enablement tool:
1. Phone Outreach – All of my prospects are listed in HubSpot and it allows me to segment them further into sub-lists based on things like geographic location, industry, company revenue, or even my own custom categories. Then, I simply select a list and call my contacts directly using built-in calling functionality. I can easily enter notes from my conversation, and the call outcome is updated in the contact's record. It's streamlined, so there is no need to call from my desk phone and then manually enter the results in a separate system. This really saves time over the course of a focused calling effort. HubSpot also gives me the ability to create lists of contacts based on particular call outcomes. For example, I can create lists to easily identify contacts who referred me to a colleague or those for whom I left a voicemail and need to call again. I can also simply set a call back that will trigger a task and a reminder.
2. Email – Prospects often ask me to email them information about a product or service. Since prospects are segmented into lists within HubSpot and I am easily able to add new contact data, emailing is a snap. While I'm in the contact's record, I have two email options: I can compose a message that addresses items from our conversation and send it right away, or I can select from our library of templated emails on a variety of topics. Either way, I avoid the need to switch to a second application to send them the information. This feature is a great time-saver because I can prepare and send a message just by selecting from a drop down. Personalizing the message and attaching documents or adding hyperlinks to the email body is easy too.
3. Nurturing - HubSpot also lets me easily send nurturing information to prospects I've previously contacted with a feature called Sequences. Think of it as a time-based automated workflow. With it I can create a series of email templates to send to a group of contacts. For example, I might write four messages that explain our services at Acadia, each one building on information from the previous messages. Then I can schedule delivery of the emails over a customized period of time, such as every two weeks or once per month. The Sequence feature lets me create detailed content, tailored to the group of contacts I want to target, but frees me from having to keep track of when to send each message. This marketing automation feature practically guarantees that all of the emails in my campaign will be sent in order and on schedule, letting me focus on other sales work.
Another way HubSpot makes follow up and nurturing easier is by tracking the outcome of each email. If a contact opens and clicks through a link in my email, the system automatically notes this in the contact's record. This makes it easy for me to see which contacts have engaged with my content, along with any past conversations or correspondence I've had with them. As a result, I have all the information about them in one place for my next interaction with them. What an improvement over checking sent email lists, sales notes, and contact directories individually.
Sales enablement is all about setting yourself up to succeed at each step of the sales cycle. Of course, there are many other sales enablement tools and techniques, but these are some that have worked successfully for me. If you have questions about how you can begin using sales enablement in your organization, please contact us. We are happy to help you find the processes that work best for you.