My past several blogs have focused on how to remove the roller coaster-effect from your sales forecast. Yes, it can be done - but you must focus on cleaning data, segmenting data, and creating well-defined sales stages.
As we know, it is important to work out the above processes before jumping into a software tool. Start with clean, segmented data and solid sales stages. Then - identify information fields (e.g., list source) and values (e.g., Big Conference 2014) that are important for your organization. Play with the concepts: tweak and test! Once you have a design in place, you are ready to PULL THE TRIGGER. It's time to turn your design into a real-time sales report. This will require software.
Which software tool? I tried to avoid using the dreaded acronym - CRM. But, there's no way around it. Yes, a CRM. No, I don't mean Crazy Random Metrics. It's Customer Relationship Management, aka SFA (Salesforce Automation). Whew!
This software will, if properly set-up and maintained, enable you to search, sort, report, graph, track and measure business development activities. It will transform the way you look at sales. It will demystify your processes and create a streamlined forecast with clear goals.
I've seen great changes in organizations that have done their homework, step-by-step, and deployed the right software. You may have a ton of sales data, but if you can't visualize it in a meaningful way, it is just a ton of sales data. What is it telling you? How is it guiding you? You won't know unless you're reporting on the data.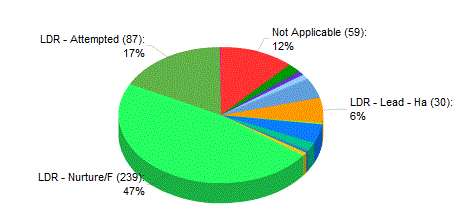 You may not want to pull the trigger on a CRM. But do you want to pull the trigger on a system that will provide information to drive a more predictable sales forecast? If so, let's call it POM. Peace of Mind. It sounds better than CRM.
Here's to getting off the sales roller coaster and moving to smoother ground. And POM!