CRM often goes hand-in-hand with sales. But do you realize that a CRM is much more than that? In previous blogs we discussed how CRM bridges that marketing-sales gap. It's a record of all interactions (like marketing activities) with a contact, allowing us to track the progress of our engagements. We can see why and when potential clients become clients, and prospects become opportunities.
So yes – tracking, measuring, understanding – all of that helps your sales team. But don't forget - you can use your CRM to help your operations team prepare for what's coming! Which campaigns or services may be needed next month? Which resources will we need? Your CRM tells you this, and is now a bridge between sales and operations. Just imagine it. This one simple (yes, simple) tool closes the gaps between sales and marketing and between sales and operations. Amazing!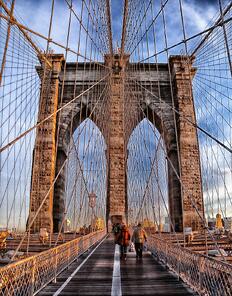 At Acadia, we use CRM for all of the above, internally and for our clients. Why? Think about what sales needs to convey to operations - these campaigns are coming on these dates, so be ready with your resources and capabilities. But what do you actually tell them? Jim may close that deal next week? You might need to hire a project manager for a potential campaign? Not hardly. Put that CRM to work.
We've done that at Acadia by implementing sales stages. These sales stages describe where we are in our relationship with clients and potential clients. We use Sales Stage 0 (S0) for folks we're "getting to know" – perhaps they've engaged with our social media posts or forwarded one of our emails. They may be looking for something but are not yet opportunities. Once an S0 raises their hand and says "hey, let's talk," they are assigned Sales Stage 1 (S1). Here's when we involve sales, who groom the relationship, research the prospect's needs and decide how we can help (and if we can't help, we recommend someone who can). As we nurture a relationship with a contact, their sales stage changes from S0 to S5, depending on how things are progressing and where we are in the quoting process. Your sales stages may be different, depending on your company's needs.
When a prospect becomes an S5, we're pretty close to signing a deal. At this point, we've provided a proposal and are really just waiting for a sign off. So imagine our meeting with operations. Instead of saying "Jim may want our service in January," we're pulling a report on our S4's and S5's. This shows operations exactly what we're forecasting and what they need to prepare to execute.
Once we have a signed contract, the client transitions into Sales Stage 6. S6 is the magic trigger, telling operations that they now have a program in house. They've been expecting this thanks to our reports on the S4's and S5's. The handoff is seamless and herein lies the glory of using a CRM.
Additionally, a CRM is a databank of people, notes, proposals and pricing, all regarding your client or opportunity. Therefore, the handoff to operations is not "oh my goodness, we have to start from ground zero, who do we call first, etc." Now it's "click here for the history, what we quoted, what we promised, and who you deal with." Big difference! It's a seamless transition from sales to operations with just a few minor notes and a quick meeting.
This process has really been a game changer, not only for us but for many of our clients. And yes, it's a process.
So CRM is not just for sales anymore – CRM bridges the gap between sales and marketing AND bridges the gap between sales and operations. So what's holding you back? Do you want your sales and operations teams to work together more seamlessly? What are you doing in your company?