The dynamic between sales and marketing activities has taken a vast jump as a result of the expansion of internet and digital marketing.
In years past, marketing involved very distinct campaigns and outreach to prospective clients. Marketing was a direct mail piece, a phone call, a trade show, or an advertisement. Campaign results were not measured in detail. Sales departments were the vehicle which reinforced programs and campaigns via calls – meetings and personal interaction.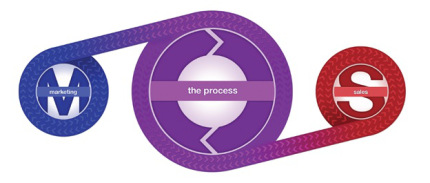 Fast forward to 2013 – there are hundreds of inbound marketing tools to help you reach out and touch potentials as well as measure results. These include websites, social media, marketing automation tools, and drip nurturing campaigns, just to name a few! All are well-measured and scored. Personal interaction has decreased as digital interaction has increased.
The balance of activity has taken a strong shift. So what are some of the best practices for rebalancing?
The first step is realizing what marketing activity is driving into the sales pipeline. Marketing tools are providing information and data that is important and necessary for today's sales. As web sites become your first impression to a client, your sales team must be stronger and better informed. Prospects are now significantly more educated as a result of the vast amounts of information available on the internet. Marketing information must be used to provide leverage and create inroads. Such data exists – but we have neglected to plan well for the transfer of information and the activities it requires.
We start with the marketing phase. Defining the target audience, creating a value proposition that resonates with that audience (addressing their needs), and refining the campaign to engage the target, all fall under the marketing umbrella. It is critical to engage Sales in these activities, as they are the source for determining who the best targets are and why. This targeting provides Marketing the foundation for creating content that is focused and pertinent to the audience.
Next – define the tools that will be used to execute the campaign. Are you using a marketing automation tool, a teleprospecting team, a website promotion, social media, content creation, or all of the above? How will the data and results be gathered, and how will these be transferred to Sales for follow up? Today, we have tools which provide more detailed information about our audience, including their activity on our web sites, their response to an email blast (what they open), and what events they attend. We score their every move – but do we transfer these facts to Sales so that they can leverage this knowledge into a deeper engagement?
The handoff to Sales is critical and must be discussed and planned for – including building in the time it will take to follow up. Often, when Sales and Marketing are working in silos, Sales does not realize that their involvement will require attention to correspondence and reaction time. Planning for this is critical and schedules need to reflect this important step. You cannot add something to the schedule without making corresponding changes to the overall plan. This is where a great deal of "rub" exists between Sales and Marketing. Marketing wonders why Sales is unresponsive and Sales feels expectations are too stringent for the sales cycle.
With the tools available today, copious amounts of business intelligence and prospect personas are collected by Marketing. However, too much information can be just as useless to a sales person as no information. Defining the appropriate and most effective content to deliver to the field requires collaboration between Sales and Marketing. Both sides MUST communicate in order to define the process that fits your business and sales cycles.
Create a system to track good opportunities as well as poor opportunities – do not forget to nurture those who may not be ready to buy today but still have potential. Creating the closed loop requires that Marketing and Sales work together to outline the process, set the key gates and define the feedback loop.
Most importantly, Marketing and Sales must come back to the table to triage the results. Track what was achieved as well as what might need to be changed. Did the value statement and the audience connect? Did the website reflect the same value proposition? Feedback and adjustment are vital.
Very few campaigns are a homerun on the first swing. They require phases, understanding and grooming, like all good policies. They take time to refine – and with collaborative effort, the desired end will be achieved – a successful and, most importantly, measureable business development campaign.
-Margery Murphy, President -- Acadia Lead Management Services