It's spring trade show time! I just returned from one and was just reminded that they aren't cheap. Let's focus on how to get the most out of our (often substantial) trade show investments.
Of course, your event budget will vary, but according to EXHIBITOR Magazine, the average trade show budget breaks down as follows:
Space: 35%
Booths & Graphics: 16%
Staff Travel: 16%
Show Services (electric, cleaning, drayage, I&D): 11%
Shipping: 10%
Promotion: 7%
Other: 5%
Another way to estimate your total show expenses is to multiply your space costs by three. For example, if average floor space is $21 per square foot, a 20'x20' floor space rental would cost around $8,400. Therefore, your total estimated budget for the event would be $25,200.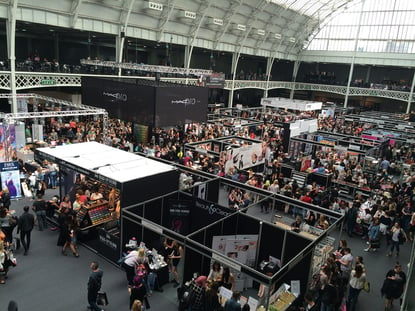 Based on this information, you need to prepare to secure a return on your investment. If you spend $25,000, how many new clients do you need to secure just to cover the overhead? If your average sale is $5,000, your break even is five clients. Target eight to ensure you come out on top.
So - what will it take to land eight new clients? You have a prime audience with potential buyers walking past every minute. Don't let them pass you by. You need a plan to pull them in, and the ability to execute that plan. You can't just show up. Prepare before the show to ensure you keep the conversation going after the show.
Here are some methods to pull prospects to your booth and, better yet, convert them into new customers.
Present as a Subject Matter Expert at the show. This sets you apart as an industry leader. This is not a sales pitch, but a sharing of what you know, how you make a difference in your industry and how your methods have had an impact. Tell a story – be smart, and you'll gain immediate credibility with your peers. You will be that go-to person.
Pre-market to your top 10 target clients with a specific message and an invitation for a face-to-face meetup. What value can you bring to your "top 10?" It's not about you, it's about them. Being creative is less important today than being smart and insightful. Spend time researching the company: Are they looking to save money, develop new products or be innovative? Position yourself as a way to help them achieve their goal. It's worth the investment, as you'll set yourself apart as knowledgeable and as a strategic partner. Store your pre-marketing data in your CRM and augment your contacts after the show.
Invite your best client(s) to join you at your booth. There's no better salesperson than a satisfied client – a real life testimonial. Your client doesn't have to sell a thing; they can simply tell the story of using your products/services and why it's easy for them or saves them money. If they can't join you in person, create video testimonials and play them at your booth.
Prepare your booth staff to ensure you're all on the same page. Set clear goals, and understand key target companies and advocates in those companies. Know their pain points and be ready to talk solutions. Have a set of qualifying questions ready that you're all prepared to ask. Pre-show booth prep is often so focused on the actual physical booth that many forget to do the most important prep - uncovering new opportunities, aka lead generation.
Practice practice practice. Be sure you have a one minute, succinct, targeted value proposition. Everyone representing your company must be comfortable with it and able to make it their own. Grab the attention of the attendees. For example, "Hi. I'm Mark with Huber Incorporated. We manufacture micro pumps for the pharma industry. One of our recent innovations in pump technology saved our client over $100,000 while providing a faster, more accurate solution. How can we assist you?" They may say that you can't because they don't use pumps. Great - you just disqualified them as a target - move on. If they say they aren't sure, they've opened the door to conversation. It's your chance to start with "Tell me about what you do…?"
Maximize every minute. Don't waste time on those who just want to chat. You have a large investment in this booth space so save the social gatherings for post-show dinners. Remember that your $25,000, two-day trade show is costing $12,500 per day, or about $1250/hour. WORK IT!
Thank them. Don't send them home with a bag is stuff they will never unpack. Prospects can get everything on our website anyway. Instead, send them a thank you email with a call to action. If they engage, go ahead and send a gift to their office. They'll remember you after the show without having to lug anything home.
Plan a nurture campaign so you don't forget prospects after the show. They may not need you today, but they may need you tomorrow. Stay top of mind and keep them updated on your newest innovations, success stories and industry updates.
Smile and be happy. We all know that trade shows are tiring, but for goodness sake, people don't want to see you sitting at the booth looking bored. Keep your energy high by remembering how much you've invested in this show. If you think of your investment and what you need to achieve, you'll keep your eye on the ball.
Meet internally after the show to review leads and ensure your action plan is ready to go. What did you hear about clients, competition, potential partnering or industry trends? Share and use the information moving forward.
Parting thoughts: While planning, think revenue generation, not event participation. Revenue is sustainable while events are not. What do you do to prepare for a trade show?