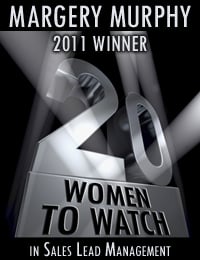 Margery Murphy, President and Founder of Acadia Lead Management Services, was named by Sales Lead Management Association (SLMA) as one of the 2011 Top 20 Women to Watch in Sales Lead Management.
This award recognizes the contributions of women who are involved in the vital discipline of managing sales leads, including marketing or sales at B2B and B2C companies; CRM, marketing automation, or lead generation firms; telemarketing, lead management software, exhibits management or lead management service companies and agencies (direct, brand, PR and internet).
Founded in 2007, the SLMA serves members of the worldwide sales lead management community through services such as professional development, best practice sharing and training.
Based in Kettering, Acadia has been providing B2B Lead Qualification, Market Research and Database Management teleprospecting services since 1999.
To read more, click here.