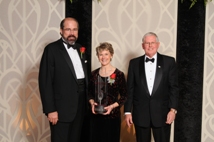 DAYTON, Ohio – (December 18, 2009) – The Dayton Business Journal named Acadia Lead Management Services Rookie Business of the Year. The Business of the Year awards, presented by Soin International at a black-tie event, honored companies and business leaders from the Dayton Region judged by a panel to be a cut above their competitors. The award is the second win for Acadia which was named Fastest Growing Company in Dayton by the Dayton Business Journal earlier this year.

"Acadia is a unique company," said Margery Murphy, President of Acadia. "As a team we go to work everyday helping businesses of all kinds uncover sales, gather market intelligence about their customers' challenges and needs, and then assist them with how to use that information to optimize their sales cycles and achieve sustained growth."

The Acadia team's field experience and knowledge range from IT and engineering to manufacturing, software and commercial real estate. "Our team has skills in a wide range of industries," Murphy said. "As a result, we can quickly assess a company's needs, accurately engage their customers at different levels for critical insights and tailor strategic programs to fit their needs." Acadia also partners with marketing firms to enhance their in-house resources.