Acadia Lead Management Services proudly announces its new television series, Margery Murphy TV. Each episode, available on youtube.com, features Acadia CEO Margery Murphy offering quick tidbits of interest to the small business owner.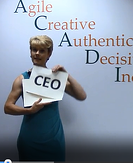 Current episodes include: Are You Crazy Enough to Own Your Own Business?, A Day in the Life (Of a Small Business Owner), and Maintaining Your Balance. Each weekly episode of MargeTV promises to be fun and informative. Future topics include small business challenges and finding business opportunities.
Acadia will also use their YouTube channel for events, presentations and more.
Acadia Lead Management Services, established in 1999, specializes in helping companies reach new levels of success in sales and marketing, ultimately resulting in revenue growth. Acadia, a WBENC-certified women-owned business, offers CRM and marketing software, market research, contact list builds, database management, lead qualification and more.
For more information, visit acadialms.com or email acadia@acadialms.com.