Balance. Easier said than done in the business world. Perhaps Simon Sinek sums it up best:
There is no decision that we can make that doesn't come with some sort of balance.

In my previous blog, I discussed some of the business development challenges manufacturers and technology service companies face. But how to face these challenges? Think balance. But just how do you strike a balance between inbound and outbound marketing, all tailored to your audience? It can be done.
Many of our clients often rely on acquiring business via relationship selling, referrals and word of mouth. I'll be the first to say that these are the best sales opportunities, but developing these relationships takes time and effort. A new generation of buyers do things differently and most business owners don't have the time to fully develop these relationships.
Now, I'm not saying that the traditional way of doing things is dead. Outbound efforts such as trade shows, prospecting, advertising, networking, and so on are still quite valuable. Come to think of it, when did "outbound" become a dirty word? As inbound grows, marketing professionals have been quick to jump on board and for very good reason. It works! But, why forget about those outbound efforts? Don't get unnecessarily bound to one or the other. In many cases, a more direct approach may be exactly what is needed to close a sale. Leveraging targeted trade media, shows or direct outbound calls might be the way to go.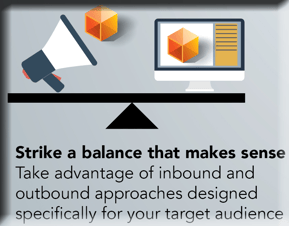 On the other hand, what happens to those trade show leads, social media referrals and our prospecting calls that are not quite ready to buy? How do you keep in front of them? Sales is tasked with generating business and understandably will pursue the low hanging fruit. Nurturing activities tend to take a back seat to the immediate reward of a sales opportunity. Why shouldn't it? Well, in comes marketing.
The marketing department is now more responsible than ever for taking those "need to nurture" opportunities and continuing to touch them on a regular basis; not with solicitation, but with helpful content and information the respective audience needs. For example, engineers thrive on technical content and solutions, while a buyer or purchasing agent may focus on how they can save money. Why not communicate to each of them with targeted content that is meaningful to them? Relevant content increases your chances of being found via organic search or social media, and ensures a prospect will actually open your emails.
Instead of just inbound or outbound exclusively, a strategically balanced approach to demand/lead generation may be in order. In other words, the Omnibound® approach.
In Step 1 of the Omnibound approach, it's important to evaluate your both lead generation efforts and your client base. The key is to develop an understanding that will be the beginning of a plan. (This does not exclude exploring new avenues as well). Ask the following questions:
What methods in the past have been your most effective lead sources?
What campaigns, programs or efforts did you undertake in the past to target new business?
Who are your clients? List industry (e.g., aerospace, healthcare, etc.), and who in aerospace or healthcare your work with.
What are the typical challenges your prospect has on a daily basis?
Is your prospect a Millennial? A Boomer? A person's generation influences how they find suppliers and gather information.
Where do your prospects go to research a new supplier or product?
Is your company visible (in the right places), providing the right information when the prospect is looking for you?
As you dive into this analysis, you'll begin to realize that the universe of information is broad. Your company must find the appropriate balance between outbound efforts and inbound efforts. The two are inextricably connected now. The challenge, however, is to determine which channels and activities make the most sense for your business. For example, we know our clients are experts in manufacturing and the industrial space but narrowing down various business development strategies and tactics is still challenging.
Our advice is to pull your team together and ask the aforementioned questions. You'll probably come up with more questions during this process. After you've put together answers, you may need a partner organization to help you achieve the inbound-outbound balance that's best for you. Interview experts in the industrial, technical and manufacturing space for this prospective partner. If a prospective partner company does not work extensively in this space, seriously consider looking for someone that does. Your value proposition is unique for industry and a full understanding of the best channels is critical. Remember, a balanced approach to demand and lead generation is key. Inbound and Outbound = Omnibound. These efforts must be fully integrated between sales and marketing to help bring your prospects down the funnel.
For more information on the Omnibound approach or to take the OMNIBOUD Challenge, click below.